Which New Volkswagen SUV Seats 7 Passengers?
Which All New VW SUV Seats 7 Passengers?
If you're in need of the perfect SUV for your large or growing family, Volkswagen's brand new lineup of VW SUVs offers two full stack vehicles that can seat up to 7 passengers comfortably. The all-new Volkswagen Atlas and VW Tiguan are two of the most spacious SUVs on the market today offering third-row seating that can comfortably accommodate your entire group or family. At VW of Waco, we have a huge selection of these popular new Volkswagen SUVs to choose from, so you are sure to find the perfect SUV for you. Read more to decide which of these fanatics VW SUVs is right for you, then shop our selection of new VW Atlas & new VW Tiguan SUVs for sale near Austin today.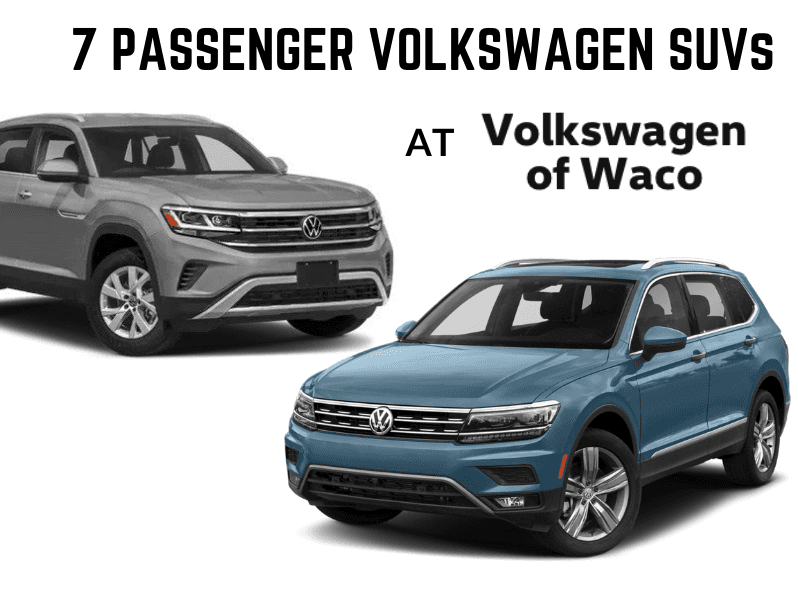 New Volkswagen Tiguan 7 Passenger Seating
Although the standard new VW Tiguan SUV model features seating for 5 passengers, a three-row Tiguan with seating for up to 7 is available. You'll find serious space with these added seats, so the entire family can tag along. Whether you're taking the family on a camping trip or a weekend at the park, the all-new VW Tiguan boasts spaciousness that your growing family needs. Like the Atlas, Tiguan passengers can enjoy the seven-seat configuration and optional third-row seating. Within the 7 passenger Tiguan, you will find 123.9 cubic feet of total passenger volume and up to 65.7 cubic feet of total cargo volume. This spacious SUV offers even more with an extra foot of added length, resulting in a much more expanded cargo space. For added convenience, the second row of seating can move forward or backward up to seven inches. With all this space, it's no wonder that these all-new Volkswagen SUVs are going fast! Shop our selection of all-new Volkswagen Tiguan SUVs for sale today and see for yourself how much space these SUVs can offer.
New VW Atlas 7 Passenger SUV
Third-row seating and 7 passenger capacity are standard in the new Volkswagen Atlas SUV. This Volkswagen seven-passenger SUV offers a comfortable ride whether sitting in the front seat, in the 60/40 second-row seating, or the third-row 50/50-split-folding seating. The VW Atlas provides easy access and entry for passengers and makes accessing the cargo area easier with the available hands-free liftgate. If you're in need of more room for the kids, you won't have to worry about this in the Atlas! The second row of the Atlas has room for three child seats due to its spacious interior. For those seating in the rear of the vehicle, you'll find that access to the third row is easy as you will just need to fold the second-row forward with a pull and push. Shop our selection of these all-new 7 seater VW Atlas SUVs for sale near Dallas!
Shop Our 7 Passenger SUVs at Volkswagen of Waco
At Volkswagen of Waco, we're incredibly proud to offer the complete lineup of new Volkswagen SUVs for sale near Austin. If you're on the hunt for a 7-passenger VW SUV, be sure to consider our VW Atlas and VW Tiguan models. Our friendly new Volkswagen sales staff is happy to assist you with finding the model that best suits your lifestyle. Shop our selection of new Volkswagen 7 passenger SUVs today near Dallas & Austin!