Difference Between New Volkswagen Atlas vs VW Atlas Sport
The all-new Volkswagen Atlas Cross Sport is Volkswagen's new spacious, two-row seated SUV that has taken the new VW SUV landscape by storm. You don't need to be a VW SUV fanatic to see the key differences between the new VW Atlas and the new VW Atlas Cross Sport. What exactly are the differences between these two SUVs? Let's explore these important differences below.
Atlas Vs. Atlas Cross Sport – What's the difference?
The Volkswagen Atlas has been a fan-favorite midsized SUV among Volkswagen drivers across Waco and the surrounding areas. This brand new SUV arrives with all the best technology and safety features making it the best three-row VW SUV in its class. Most recently, Volkswagen has released the all-new Volkswagen Atlas Sport that gives the base model a run for its money. Most notably, there are some key differences in Exterior, Interior, and Engine and Technology features on these two models which we will explore in more detail below.
Atlas Vs. Atlas Cross Sport: Exterior
The new Altas Cross Sport is essentially a smaller version of its predecessor, the Volkswagen Atlas. With this new model, Volkswagen removed about 5.2 inches from the length of the VW Atlas to make the Cross Sport. The Atlas Cross Sport also boasts a lower and more graceful roofline and a more steep back window than the base trim. The critical combination of the long wheelbase and the low roofline makes the Cross Sport appear more muscular and sporty than the VW Atlas. In summary, in terms of the exterior of these fantastic new Volkswagen SUV, the VW Atlas Cross Sport is a more compact, sporty version of its antecedent. Compare the images below to see the major differences in exterior features for yourself.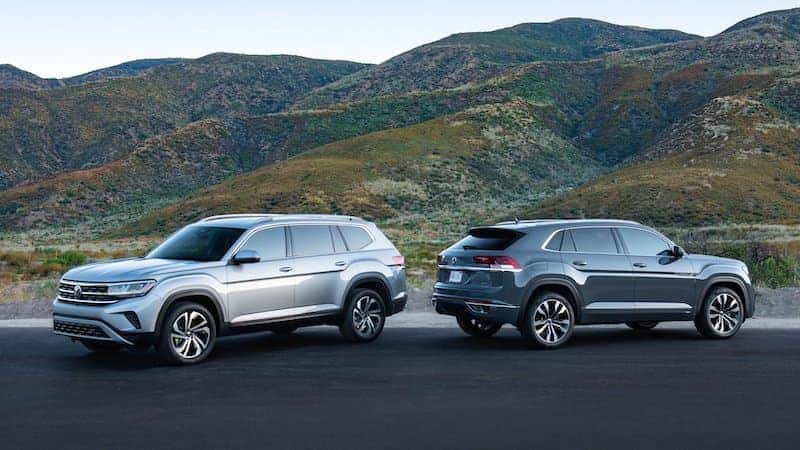 Atlas Vs. Atlas Cross Sport: Interior
The Atlas Cross Sport interior was improved with luxurious door-panel stitching and two-tone color schemes, including a rather eye-catching red and black color combination for the leather seats. Eliminating the third-row seat opened up a lot of cargo space in the new VW Atlas Cross Sport. At 40.3 cubic feet, the VW Atlas Cross Sport trunk is 15 cubes smaller than a VW Atlas in two-row mode, but it's still massive—the Cross Sport offers more luggage room than most of its competitors in the market, including the Ford Edge, Honda Passport and Jeep Grand Cherokee. There's no need to pack light if you own a Cross Sport. Volkswagen also moved the VW Atlas Cross Sport back seat slightly, adding nearly three inches of rear-seat legroom for the most spacious ride yet.
Atlas Vs. Atlas Cross Sport: Engine & Technology
Both VW Atlas vehicles come with the identical 2.0-L 4-cylinder engine, boasting over 235-horsepower with an available option of 3.6-L V6 engine which would boast a whopping 276-horsepower. Both come standard with eight variable speeds to help optimize overall efficiency and performance. The VW Atlas Cross Sport is a couple of hundred pounds lighter than the seven-seat Atlas, but acceleration is comparable and the ride and handling are pretty much identical. Both vehicles also come with a Park Assist and a Tiptronic® mode which helps them in manual shifting to have a better and controlled driving experience. Features such as Adaptive Cruise Control (ACC) which regulates the speed of the SUV automatically to ensure a safe distance from the vehicles ahead are present in both the VW Atlas and VW Atlas Cross Sport.
Which Volkswagen Atlas SUV is right for you?
In conclusion, if you are in search of a smaller, sportier version of the ever-popular VW Atlas, then the VW Atlas Cross Sport is the best vehicle for you. We offer all drivers in the Waco area to learn more about these new VW SUVs here and shop our all-new Volkswagen Atlas and Atlas Cross Sport SUVs for sale at VW of Waco. We have a vast selection of new VW Atlas and VW Atlas Cross Sport SUVs in a variety of different colors, features, and options to choose from, so you are sure to find the VW SUV for you. Learn more and shop now!