Top Reasons to Buy a New Volkswagen SUV
The process of searching for your next vehicle can be stressful and if you're looking for an SUV, you need to ensure that it meets expectations for you and your family. There are probably a number of reasons that you might consider when buying a new SUV and Volkswagen produces quality SUVs that meet your expectations. Here I will go over the multiple reasons why a new Volkswagen SUV is a quality option for your next vehicle.
1. Luxurious & Spacious Volkswagen Interiors
Each of Volkswagen's SUVs has a comfortable, spacious, and luxurious interior styling that comfortably accommodates you and your passengers. Some of our most popular new VW SUVs like the VW Tiguan and VW Atlas SUV come equipped with or have an option, for third-row seating while still accommodating any and all of your belongings. The deep cargo space allowed on most of our Volkswagen SUVs makes comfortable any of your large family items, like suitcases for your family road trip or bikes and other outdoor activities. The interior design is the right amount of simplicity that favors you and your family's comfortability. With impressive interiors and room for all of your family activities, our new VW SUVs are sure to please all Austin drivers.
2. Top Of The Line VW Safety Features
These new Volkswagen SUVs come equipped with a number of top-of-the-line safety features to ensure you and your family's safety and making each experience behind the wheel a pleasurable one. Each of Volkswagen's SUVs shares some of the most advanced safety features on the market today, like Foward Collision Warning, Blind-Spot Monitoring, Side-Impact Air Bags, and more. The Volkswagen SUVs prove that they are some of the safest SUVs on the market with popular VW SUVs like the Volkswagen Atlas being awarded a Top Safety Pick from the IIHS and the Volkswagen Tiguan earning a five-star crash-test rating from the NHTSA. With these fantastic safety features, it is no wonder that the Volkswagen lineup of all-new SUVs is a fan favorite for all SUV lovers!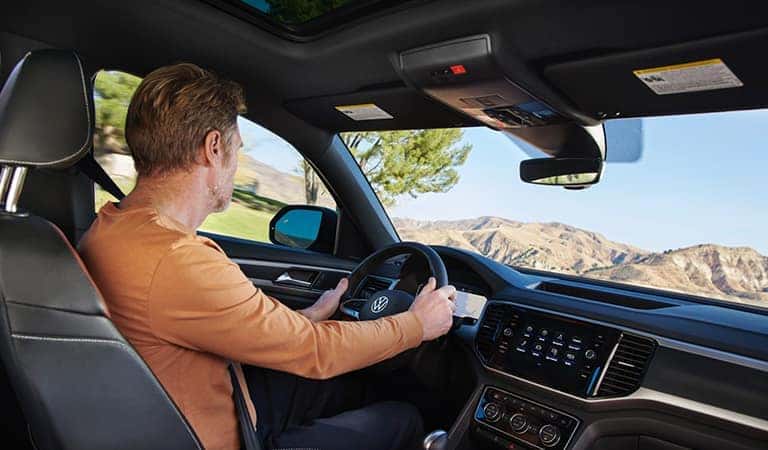 3. Power, Performance, & Precision
Each new Volkswagen SUV boasts a powerful engine that offers you a smooth, but agile ride. Popular VW SUV models like the new Volkswagen Tiguan have also earned an EPA estimated 23 mpg in the city and 29 mpg on the highway and the Volkswagen Atlas earned an EPA estimated 21 mpg city and 24 mpg highway. These models prove that performance and fuel economy can coexist. There are also other additional engine options available for a few of the Volkswagen SUV models like the Volkswagen Atlas having options for a four-cylinder model engine or a V-6 engine. With all of these power and performance options available, the VW SUV lineup is sure to hold your next dream SUV!
Each of these fantastic new Volkswagen SUVs could be a reliable, dependable option for your family's next vehicle. Our team at Volkswagen of Waco can help you find exactly what new VW SUV is right for you near Austin & Dallas. Whether you're looking for a new VW Atlas, a new VW Tiguan, or the brand new VW ID.4, stop by our new & used Volkswagen dealership and we can help you find the perfect one for you! Come visit us at our dealership and test drive one of the quality Volkswagen SUVs we offer today.